Corpse Flower Titan Arum Outdoor Bonsai Beautiful Biggest Flower In World : A Time-lapse of the Corpse Flower Blooming at the Huntington Library
"Leave the familiar for a while"
Leave the familiar for a while.
Let your senses and bodies stretch out
Like a welcomed season
Onto the meadows and shores and hills.
Open up to the Roof.
Make a new water-mark on your excitement
And love.
Like a blooming night flower,
Bestow your vital fragrance of happiness
And giving
Upon our intimate assembly.
Change rooms in your mind for a day.
All the hemispheres in existence
Lie beside an equator
In your heart.
Greet Yourself
In your thousand other forms
As you mount the hidden tide and travel
Back home.
All the hemispheres in heaven
Are sitting around a fire
Chatting
While stitching themselves together
Into the Great Circle inside of
You.
—Hafiz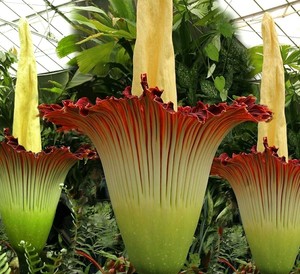 Corpse Flower Titan Arum Outdoor Bonsai Beautiful Biggest Flower In World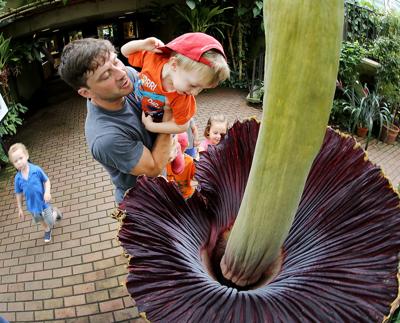 A rare corpse flower that smells like rotting flesh blooms for a second time in less than 12 months at the Adelaide Botanic Gardens.
*The corpse flower is endemic to western Sumatra, an island in southeast Asia in western Indonesia, where it grows in rainforests on limestone hills. Sumatra has a wide range of plant and animal species but has lost almost half of its tropical rainforest in the last 35 years.
It was first scientifically described in 1878 by Italian botanist Odoardo Beccari. The plant flowers only infrequently in the wild and even more rarely when cultivated.
https://en.m.wikipedia.org/wiki/Amorphophallus_titanum