"Seeds of Light"
Darkness is all around…
The seeds of Light live in the heart
When touched by the Sun
The seeds begin to sprout!
No one can stop the sacred Nature of Light
Despite the madness of this world
There is a Divine Plan,
working behind the scenes.
Despite the wars and power of the few
Attempting madly to control
To abuse and destroy our mother earth
The beauty of Life prevails…
The selfish live in glamour,
Vanity, richness, power
Self adoration…
Their God is Money, greed without scruples.
The gold mansions and the fancy toys…
They impose the styles and fads
That the poor struggle to imitate
Running after the carrot of a bigger home
And a better car, with stylish clothes
That may look like rags with designer labels
Of prestige!
Programmed consumers while they live in debt…
The poor dream of castles and crowns,
The princess or celebrities glam,
The famous stars with their glory and fame…
while half of the world starves…
Indifferent to suffering of children,
The torture of animals used and abused as a commodity
The destruction of the wars…
Following the "stars" fake lives
And vain whims, with their frivolous splurge,
Unaware of the impact of destruction
Blinded to the pollution of our oceans,
Leaving behind a trail of death and devastation…
It's a SPORT to kill and hunt
To keep trophies on the walls
Of innocent animals that gave their souls…
Fur coats, mink lashes, ivory ornaments
Potions and creams made by torturing
Dog and cats,  bunnies and monkeys
To certify "safety" for human use!
The vanity of Unconsciousness
Living in a consumer world,
Desecrating all that's innocent and pure…
Sleepy automatons, forgot to think…
Living through their video games!
The seeds of Light are in their hearts!
They may be dormant…
 just waiting to wake up
The Great Light will shine stronger
The Time has come!!!
The wave of light sweeps the earth
The Seeds of Light are waking up!
The nightmare of horrors has an END!
A new cycle is dawning!
Humanity rises
Awakening to Love and Light.
"Humane" treatment,
Respect, peace, love,
Compassion to ALL!
Competition transforms in co-operation,
Fear into Hope.

Consciousness unites our souls
In Oneness
The wisdom of the sacred teachings
Feeds the seeds of light,
The dying ambers re-ignite!
We are co-creating our New Earth,
Visualizing, meditating, praying, joining our vision
Of Love and Peace.
Building the foundation,
Becoming the change we want to see!
Amira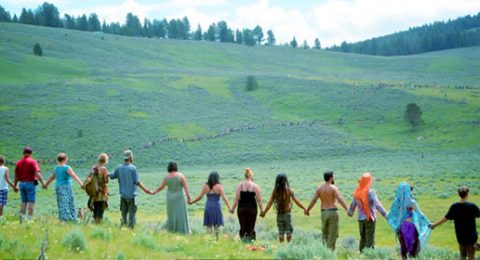 "Semillas de luz"
La oscuridad está por todas partes …
Las semillas de la luz viven en el corazón.
Cuando son tocadas por el sol
¡Las semillas empiezan a brotar!
Nadie puede detener la naturaleza sagrada de la Luz.
A pesar de la locura de este mundo.
Hay un Plan Divino,
trabajando tras las cortinas.
A pesar de las guerras y el poder de los pocos
Tratando locamente de controlar
Abusar y destruir a nuestra madre tierra
La belleza de la vida prevalece …
Los egoístas viven en el glamour,
Vanidad, riqueza, poder
La auto adoración …
Su Dios es el dinero, la codicia sin escrúpulos
Las mansiones de oro y los juguetes de lujo …
Ellos imponen los estilos y modas
Que los pobres luchan por imitar
Corriendo tras la zanahoria de una casa más grande
Y un coche mejor, con ropa elegante
que puede parecer simples trapos con etiquetas
De diseñador de prestigio!
Consumidores programados mientras viven en deuda …
Los pobres sueñan de castillos y coronas.
La princesa o celebridad adorada,
Las estrellas con su gloria y fama …
Mientras la mitad del mundo se muere de hambre …
Indiferentes al sufrimiento de los niños,
La tortura de animales utilizados y abusados ​​como mercancía.
La destrucción de las guerras.
Siguiendo a las vidas falsas de las clebridades,
Y sus vanos caprichos y derroches,
Desconociendo el impacto de la destrucción.
Cegados a la contaminación de nuestros océanos,
Dejando atrás un rastro de muerte y devastación …
Es un DEPORTE el matar y cazar
Para lucir los trofeos en las paredes.
De animales inocentes que dieron sus almas …
Abrigos de piel, pestañas de visón, adornos de marfil.
Pociones y cremas hechas por tortura a
Perros y gatos, conejitos y monos.
¡certificando "seguridad" para uso humano!
La vanidad de la inconsciencia.
Viviendo en un mundo de consumo,
Profanando todo lo que es inocente y puro …
Autómatas soñolientos, se olvidaron de pensar …
¡Viviendo a través de sus video-juegos!
¡Las semillas de la Luz están en sus corazones!
Pueden estar inactivas …
 esperando a despertar
La Gran Luz brillará más fuerte.
¡¡¡El tiempo ha llegado!!!
La ola de luz barre la tierra.
¡Las Semillas de Luz se están despertando!
¡La pesadilla de horrores tiene un FIN!
¡Un nuevo ciclo está amaneciendo!
La humanidad se eleva
Despertando al amor y la luz.
"Trato humano",
Respeto, paz, amor,
¡Compasión a TODOS!
La competencia se transforma en cooperación,
el Miedo en Esperanza.
La conciencia enlaza nuestras almas
En unidad.
La sabiduría de las enseñanzas sagradas
Alimenta las semillas de la luz,
¡Los pequeñas brasas se reencienden!
Estamos co-creando nuestra Nueva Tierra,
Visualizando, meditando, rezando, nos unimos en  nuestra visión
De amor y paz.
Construyendo los cimientos,
Convirtiéndonos en el cambio que queremos ver!
Amira