"Racoon"
Mischievous, curious,
Resourceful, smart, assertive:
A problem solver!
Teaches:
-Stand up for yourself!
-Be curious about the world
-Explore & search for truth!
(Also: -Remain calm under pressure.- Look at the entire picture, not just what you want to see. -The mask is a symbol of transformation: you can change to become who you want to be!)
Amira

 Let me know what animal shows up in your life, or in your dreams, or your favorite animal, and I will try to do a Haiku poem in your honor.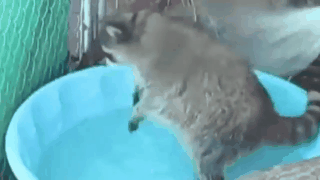 "Mapache"
Travieso, curioso,
Ingenioso, inteligente, asertivo:
Un solucionador de problemas!
Enseña:
-¡Defiéndete!
-Sé curioso acerca de tu mundo
-Explora y busca la verdad!
(También: -Mantén la calma bajo presión.- Mira la imagen completa, no solo lo que quieres ver. -La máscara es un símbolo de transformación: ¡tu puedes cambiar y  ser quién quieres ser!)
Amira

 (Déjame saber qué animal aparece en tu vida, o en tus sueños, o tu animal favorito, e intentaré hacer un poema Haiku en tu honor.)