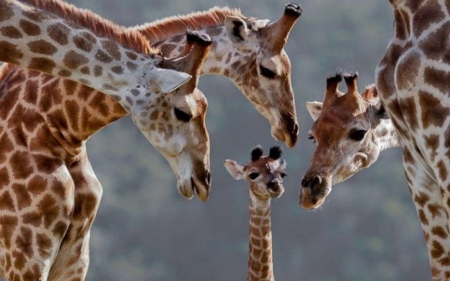 "Giraffe"
Rise above earthly
Matters, see the Big Picture
Walk with head held high!
Lesson:
Reach to the Heavens,
Keeping feet firm on the ground,
Gently walk your talk!
Amira

 
Let me know what animal shows up in your life, or in your dreams, or your favorite animal, and I will try to do a Haiku poem in your honor. This poem was inspired by and is dedicated to my dear friend Christine.
Déjame saber qué animal aparece en tu vida, o en tus sueños, o tu animal favorito, e intentaré hacer un poema Haiku en tu honor. Este poema fué inspirado y está dedicado a mi querida amiga Christine.
 
"Jirafa"
Elévate por encima de lo terrenal
Mira  el panorama general
Camina con la cabeza bien alta.
Lección:
Alcanza a los cielos,
Manteniendo los pies firmes en el suelo,
Suavemente camina el sendero que predicas!
Amira